Debt is something that millions of us struggle with on a daily basis. From student loans to mortgage payments, nearly every American adult must deal with some form of debt. There are also many who suffer under debt that comes as a result of poor spending habits. Regardless of how debt originates, the feeling of owing money can be overwhelming. To make matters worse, many people who are in debt have families and basic non-negotiable expenses to handle.
Individual Debt in America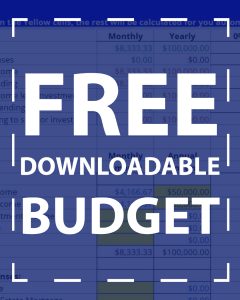 Home loans- To own a piece of the American dream, we usually have to borrow the money through a mortgage. According to debt.org, in 2018, the total mortgage debt in the US was over $9 trillion- an increase of almost $4 billion from 2017.
Consumer debt— loans that do not include mortgages— totaled just about $4 trillion in 2018, an 7.6% increase from 2017. This averages out to almost $12,000 per person.
More specifically when we look at credit card debt, a bit over $1 trillion was owed to credit issuers in 2018.
The average revolving (credit card) debt per capita was approximately $3,167 last year.
Student loans are another serious category of indebtedness. Last year it totaled one and a half trillion dollars. Auto loans topped one trillion dollars as well.
You are not alone when it comes to handling debt! Of course being debt-free is a wonderful goal, but it can take time and steady habits to get there.
Increasing Debt in America
Statistics seem to suggest that debt will continue to be a growing problem for the average American. In fact, the amount of individual debt in the United States rose by $1,000 between 2017 and 2018. Northwestern Mutual released results from their Planning and Progress Study in 2018 stating that fewer Americans reported carrying 'no debt' than ever before. The percentage is now around 23% and down from 27% the year before.
Debt by age range
Every generation faces a unique debt challenge. For example, Americans who are 18-24 years old have to deal with student loans as their primary source of debt. For older millennials, ages 25-34, credit cards make up the majority of their debt. Although student debt is still present for many in this age range, it plays a much smaller role. The next age range of 35-49 is the cohort known as Generation X. Their primary form of debt is mortgage loans. Most Americans take out significant loans to buy a house around this age. One positive note is that the oldest generations typically struggle the least with debt.
Is there any good news?
All of these debt statistics can be discouraging, and many of us in debt wonder if there is any good news.Know this: many people have successfully made it through the dark tunnel of debt and have gone on to survive and thrive. Also, it is important to remember that there are many public and private organizations that are dedicated to helping people get out of debt.
How can I get out of debt?
Because so many people have struggled with debt, the path towards financial freedom is well-trodden. Individuals and families need to organize their debts and create a plan for repayment. Second, it is important to curtail all unnecessary spending. Income needs to be saved for paying off debts and other necessities. Americans in debt should also determine if they are eligible for Medicaid or other public services. If all else fails, you may want to consider filing for bankruptcy. While this is a frightening word, bankruptcy has proven to be a legitimate path out of debt for many. There are some types of bankruptcy that allow borrowers to pay their debts back over a prolonged period of many years.
Find out more about being debt free in our guide: All About Debt Relief
Follow us on Facebook for financial management & money saving tips!
The Law Office of Barbara B. Braziel helps people get out of debt. We offer free consultations to people of Savannah, GA and the surrounding areas, including Richmond Hill, Hinesville, Pooler, Port Wentworth, Tybee Island, Clyo, Ellabel, Midway, Ludowici, Springfield, Pembroke, Brooklet, and Garden City.
We are a debt relief agency. We help people file for bankruptcy relief under the U.S. Bankruptcy Code.
The post Debt in America appeared first on Braziel Law.